CMF Cranio-Maxillofacial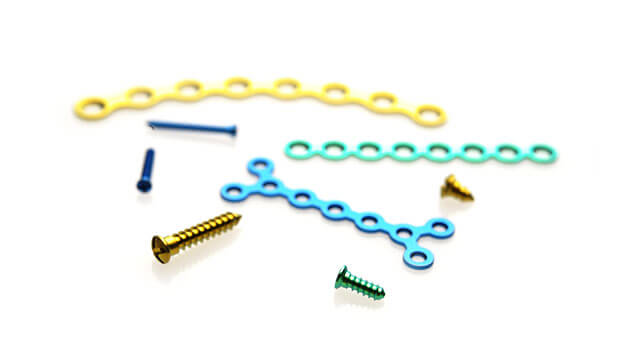 Our CMF product line - For the treatment of fractures
The treatment of different fractures in the Cranio-maxillofacial area is a sensitive issue in dental surgery. In our Cranio-Maxillofacial - assortment we have different systems to choose from. To simplify the differentiation of the systems, we have color-coded the respective components.
Broad product portfolio for all applications
Whether cross recess, square or hexagonal - select your preferred combination of osteosynthesis screw and the corresponding plate. You have the choice of geometry - better self-drilling or self-tapping for a perfect result all along the line.
Feature
Specification
Screw dimensions
1,2 mm
1,6 mm
2,0 mm
2,3 mm
2,7 mm
Coordinated products
All components from our company are precisely and meticulously matched to each other. Whether screw, plate or instrument - a harmonious interaction of the Cranio-Maxillofacial is guaranteed in every case.
So small and yet so decisive
Precision down to the smallest detail. We rise to this challenge day after day. We offer osteosynthesis screws in a range of dimensions from 1.2 mm to 2.7 mm for the treatment of your patients. Small yet highly efficient - choose between self-drilling or self-tapping geometry. For all bone screws in our product range, we offer emergency screws in the corresponding sizes.
The optimum for your patients
It is a matter of course that we do not make any compromises here. Perfect in material and design - this is how an osteosynthesis screw has to be, and nothing else. With a wide range of differently shaped bone plates, we support you in providing your patients with the best possible care. Our product range leaves hardly anything to be desired. Please feel free to contact us with your suggestions and requests.
What makes practice easier
Our offer for you does not end with implants. A carefully selected portfolio of high-precision tools supports you in your work with patients. Drills specially adapted to each system in combination with a highly sensitive depth gauge can be used to prepare the bone optimally if required. A wide variety of cutting and bending forceps enable the bone plates to be processed with precision fit. Everything works perfectly together. The components as well as the tools. The insertion instruments, which are matched to the type of drive, also ensure maximum safety and accuracy in the precision work. The process of fixing the selected bone screw can be carried out easily and quickly.
For a smooth treatment process
With our practice-oriented racks for storing screws and plates, you always keep an overview during treatment. Nothing distracts you, every part has its place. The products are stored in a structured manner, always ready to hand and safe.
You can find more Information and Downloads here